There are nine hermitages at Vision of Peace.  Two are under renovation.
Each includes a twin bed, desk and chair, private shower, and small kitchen with microwave oven, coffee maker, and refrigerator.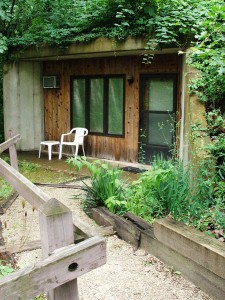 Three hermitages directly face the Mississippi River with full views of the river throughout:  Emmaus, Tree of Life, and Glimpse of Glory.
Vision of Peace is on the front corner of the property with a river view and a view to the woods.
Four hermitages are built into the bluffs facing into the woods: Beautiful Earth, Emmanuel, Jesus is Lord, and Holy Wisdom.  Upper Room is above Jesus is Lord.
Each has unique floor plan and design offering  privacy and solitude.