We have nine hermitages available for you to seek quiet, solitude, and peace.
Each hermitage is equipped with a twin bed, a desk, a chair, private bath with shower, and kitchenette (including a microwave, hot plate, crock-pot and refrigerator).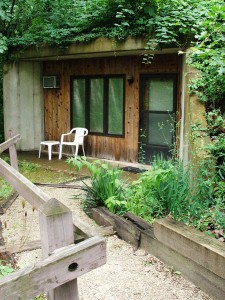 Each hermitage has its own unique character.  Three hermitages directly face the Mississippi River, offering full views of the river throughout all seasons:  Emmaus, Tree of Life, and Glimpse of Glory.
Vision of Peace hermitage is situated on the front corner of the property, offering both a river view and a view to the woods.
Four hermitages are built into the bluffs facing into the woods:  Beautiful Earth, Emmanuel, Jesus is Lord, and Holy Wisdom.    Each of these hermitages is unique in its floor plan and design, but all offer privacy and solitude.
The final hermitage, The Upper Room, feels more like a tree-house than a free-standing building.  This hermitage is wheelchair accessible, and even includes a loft-space with an extra twin bed, to accommodate patrons who might need the help of an assistant.
The hermitages have been designed to accommodate one person at a time, enhancing the peace and solitude of our natural surroundings.