The award winning Monsignor William J. Lyons' Spirituality Center and St. Benedict's Chapel at Vision of Peace Hermitages.
The name honors the memory of Msgr. "Bill" Lyons, beloved spiritual guide to UMSL students, Kenrick-Glennon seminarians and seminarians at the North American College in Rome. Msgr Lyons (1930-2011) directed the Newman Center at University of Missouri-St. Louis from 1967-1994. During that same time he also served part-time as a formator at Kenrick-Glennon Seminary. He was full-time at Kenrick from 1994-2003 and completed his 55 years of priestly service as a spiritual director at the North American College in Rome from 2003 until his death in 2011.
The main level of the new building is fully accessible from concrete walkways, and includes a meeting room/library with a state of the art food prep area.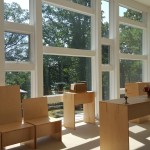 Right next door, St. Benedict's Chapel offers sweeping views of the river while you commune with the Living God. An accessible restroom and a Spiritual Direction room round out the main level.
The lower level offers a private residence and office for our Caretakers.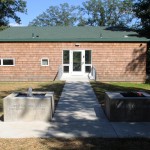 In keeping with the simplicity of the property, the building is designed to mirror the existing hermitages.  It is wrapped in wood shingle siding, which will weather over time to blend into the landscape.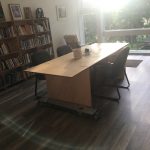 The main level offers both individuals and small groups multiple opportunities for prayer and fellowship.  Completely separate from the residence, the main level is accessible to all who are staying at Vision of Peace throughout their stay.
The meeting room is able to accommodate groups of up to 16.  Flexible seating in both the meeting room and chapel allow for maximum comfort as groups adjust the seating for their needs.
The east wall of both the chapel and the meeting room are encased entirely in clear glass, allowing God to paint the scenery throughout the year… multicolored leaves in the fall, a white background to soaring eagles in winter, the budding of new life in spring, and the abundance of green and flowers throughout the summer.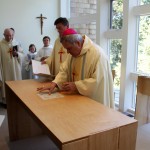 On August 24, 2015, Archbishop Robert Carlson visited Vision of Peace to bless the new Msgr. Lyons Spirituality Center, to dedicate the St. Benedict's Chapel, and to consecrate our new altar.
In September 2017, the American Institute of Architects, St Louis awarded the Vision of Peace Spirituality Center (Architects John C. Guenther, FAIA, LEED AP and Dennis Tacchi, AIA) the Small Projects Distinguished Award. Jurors commented:  "The jury found this serene project to be beautifully sited, simple, and gracious—a place rich in opportunity for meaningful personal experience. Simple moves provide great impact, while the plywood furniture reveals this project to be a true labor of love."