Vision of Peace provides an intimate setting for small groups looking to schedule a day of reflection or short retreat. We can accommodate up to 15 people for a day of reflection and up to 9 for overnight retreats.
A group can schedule the Msgr. Lyons Spirituality Center's Kitchen/Library for a full day at a cost of $100 or a half day for $50. The center includes a public chapel and bathroom.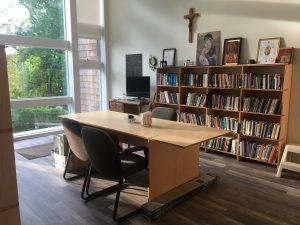 The library can be used for meals and for meetings. It is equipped with a small kitchen as well as pots, cooking utensils, dishes, flatware. 
If a day group would also like to utilize an individual hermitage, the cost is $50 per hermitage to use one for the full day.
           All small groups reserving less than all nine hermitages, are asked to abide by our Mission to "Foster Solitude with God and Cultivate an Atmosphere of Silence." Our Chapel is Open To All Visitors.
Conversations should be limited to inside hermitages or inside the Spirituality Center. A fee of $25 per day will be added for overnight groups requesting to have full, private access to the Kitchen. (The St. Benedict chapel must be available to all visitors.) 
For groups booking all 9 hermitages, the Chapel can be used for private gatherings and provides a larger space that can be used for presentations as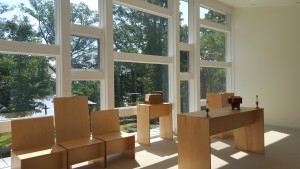 well as for prayer and for mass.      Our chaplain hermitage may possibly be booked as a space for confessions or spiritual direction also. NEW Isaiah House: Chaplain/Priest Hermitage
Guests can enjoy the grounds. This can be a great space for a prayer groups, ministry teams, church or school staff to get away for a day long retreat, workshops or days of prayer. Contact Angela (636-475-3697) to inquire about cost for using the facility for the day. Click here for more information on the Lyons Spirituality Center.
For groups who want to stay overnight, up to nine hermitages are available. The Lyon's Spirituality Center would be available for group activities and each retreatant would have their own hermitage for private pra
yer. A group can provide and prepare its own food in our kitchen.  Costs for rooms per person are $50 per night. Guests are asked to vacate their hermitage by noon and leave the hermitage the way they found it. Groups are welcome to stay in the Spirituality Center and grounds until 5 pm. There is an applicable cost of $25 per day to use the Spirituality Center's Kitchen. Also, a cleaning fee of $20 per hermitage may be added to total cost if group is not willing/able to tidy their hermitages.
Vision of Peace Hermitages, a Catholic retreat center, offers hermits of all faiths a place where natural beauty, solitude, and simplicity provide a prayerful atmosphere in which hermits may encounter the living God.
Click here for more information and pictures of the Hermitages.  To schedule a small group for a day or overnight retreat call our reservations line (636) 475-3697.
After a date is confirmed, a deposit is required. We request a 50% non-refundable deposit at the time of reservation.  You may make the deposit via our website using the "Pay Now" button on the lower right side, or by mailing a check to:  Vision of Peace, 1000 Abbey Lane, Pevely, MO 63070.
All deposits are put toward the total due for your visit at the time of arrival.  Your reservation is not considered confirmed until deposits are received by our office.
On the day of your arrival, if you are running late, need directions or any other assistance please call the Vision of Peace office (636) 475-3697.
If you are in need of a speaker for your retreat or day of reflection, the Vision of Peace caretaker can give you resources for names of people available to give presentations on prayer, Lectio Divina, gifts and charisms of the Holy Spirit, Franciscan prayers, art therapy, book groups, and many other topics.  Contact Angela Smith at 314-221-0963 for more information.