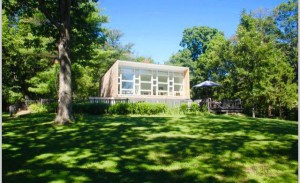 Vision of Peace provides an ideal environment for a personal self-guided silent retreat for rest and renewal. Spend time in the silence and beauty of nature. Enjoy the gift of unhurried time for prayer, meditation and spiritual reading. Take a walk. Spend time in the chapel with its beautiful view of the river. Borrow some spiritual reading from our library. Whether your stay is for a day or several days, Vision of Peace provides a place to take a break from the noise and busyness of life for spiritual rest and renewal.
Hermitages co
me with all needed bedding and linens. Guests provide their own food and each hermitage is fully equipped with a small kitchen, including a refrigerator, coffee maker, hot plate, microwave, toaster, crock-pot, cooking utensils, and all necessary plates, bowls, cups, and flatware.
The cost is $50 per night. Our weekly rate (7 days, 6 nights) is $250.
For more details, see Frequently Asked Questions
You may request a reservation online or call our reservations line (636) 475-3697.
After scheduling is confirmed, pay a deposit to reserve your hermitage. We request a 50% non-refundable deposit at the time of reservation.  You may make the deposit via our website using the "Pay Now" button on the lower right side, or by mailing a check to:  Vision of Peace, 1000 Abbey Lane, Pevely, MO 63070.
On the day of your arrival, if you are running late, need directions or any other assistance please call the Vision of Peace office (636) 475-3697.
If this will be your first private silent retreat, you may find it helpful to meet with a Spiritual Director for some fruitful guidance for your prayer. See Guided Retreats for more information.